10QI
10QuiteInteresting
QuestionsFactsFiguresPointsDatesEvents
This site and these pages are currently under construction
Fromage Featuring Ed the Cheese
Title
IN DRAFT
Page Under Construction. Email bo@networkingnaturally.com if you would like to contribute to the content
Networking Naturally is not responsible for the content of external sites. Read more....
The stomach of a sheep makes a very ecofriendly carrying vessel for milk and in an act of pure serendipity introduced the microbiotic Rennet into the milk and in most simple terms Cheese was discovered.
5,000 + bce (Before Common Era) there is evidence that the ancients had been milking their domesticated animals in Poland and 4,000 bce that the Sumerians had been doing the same in the Sahara. Of course, although still very hot, the Sahara was not the same landscape that we know today CHECK THIS OUT BO
In the south of France, ancient peoples added salt to the cheese to help to preserve it. An important innovation at that time when the supply of food could be unpredictable.
In more modern times the saying 'The Moon is made of Greene Cheese' refers not to the colour green but to the paleness of the reflected surface of the moon like a young cheese.
And for todays young people the nursery rhyme Little Miss Muffet endures the test of time but how many children question the reference to curds and whey?
Little Miss Muffett sat on a Tuffett
Eating her curds and whey
Along came a spider who sat down beside her
And frightened Miss Muffett away
It is in ___________ where we first find hard evidence that the nomadic hunter gatherers roamed across the land with domesticated animals which they used for milk and meat. These would have included goats, sheep and cows.
More recently in England we have seen the rise in alternative sources of cheese such as the Buffalo Cheese made on the Laverstoke Farm in ____ owned and managed by the former racing driver Jodi Schecter
The Mongolians milk Yaks .......
Before a female animal can give milk, she first has to give birth. The offspring will be removed from the mother at a point before she would naturally stop producing milk. The farmer will then continue to milk the animal for as long as she lactates.
On a sheep farm the ewes are Tupped once a year. If you see dye on the back of a sheep it indicates that the ram has impregnated her. The rams are fitted with a harness which has a container of dye suspended in front of his rear legs. When he mounts the females a squirt of dye sprays onto her back so the farmer will know which Ewes have mated and which have not.
In an increasingly scientific method of production, farmers will scan their Ewes to see how many lambs they are carrying, one, two or sometimes three. The Ewes carrying multiple offspring will be marked accordingly with dye and receive more food to keep the Ewe healthy and increase the chances of successful births.
10QI 3 Producers
Small Farms
Mark and Julie Sellars moved from their farm in Sussex to their beautiful French hillside farm just outside the bastide village of Castlesagrat in ? The primary income is from their herd of 50 milking ewes. Though they keep chickens, ducks, geese, goats and occasionally pigs.
They have substantially renovated the farm house which now includes two well appointed Chambres d ?
Family Farms
Multinationals
10QI 4 Types of Cheese
. Hard, soft, cream, cottage, blue, feta, mozzila in liquid
Name

Country of

Production

|

Producer

Which

Animals Milk

Type

Facts | History

Le Bleu Des Basques
France
Sheep
Blue

Pyrénées-Atlantiques

Mountain Tome

Hard rind

Fine blue green veining

Berria de Onetik cooperative

first produced in 2001

Award winner

Bepino Occelli

Cantal

Entre- Deux

France AOC

Cows. Raw or Pasterised

Specifically These cows feed on hay from November to April which gives the typical flavour of this cheese.

Hard

Cantal was produced as far back as the time of the Gauls

There are three forms of Cantal cheese varying from the youngest Cantal jeune which has aged for just 1–2 months,
Cantal entre-deux which we tried and really enjoyed 2–6 months to the older cheese Cantal vieux which is older than 6 months.

We recommend this cheese but please be aware that it may be made from raw milk and there is the risk of listeria bacteria. See below....




Comté Reserve
AOC Designation (Cooperative Producers)
Jura Region, France
Raw Cow's Milk
Hard

Montbéliarde or French Simmental cows


Co-operative small farms all 25 Km of a Fruitières

Cooperative cheese which does not make the grade is known as French Gruyère

It is an acquiried taste - unusually, we did not finish it.





Ossau Iraty Grand Cru
French
Sheep
Hard
We enjoyed!
Queso Pascal

Spain

|

Pascal

a fresh ewe's milk cheese

Sheep

Hard

As recommended by Ed the Cheese.

7 May 2014 Queso Pascal 'Pascal's Cheese' First of the season, this light but complexly flavoured Spanish artisan ewes milk

Ed recommends this cheese - but quietly!

Produced by Pascal, this limited edition cheese comes from a herd of 500 ewes who graze on the mountains and are brought down to be hand milked.

The cheese echo's the mountain grasses and flowers in subtle tones.

Highly recommended..... if you can acquire it.

Teleggio

PDO

Italy

Taleggio Valley

Valsassina foothills

in the province of Bergamo

There are various producers. The cheese is protected by

Cow
Semi Soft

This square cheese has been recorded by the Romans. Originally made at the end of the Autumn/Winter it is ripend over six to ten weeks and traditionally in caves. It is regularly washed with salt water (sea) sponge to prevent mould and the formation of an orange/rose crust.

Teleggio can be used in Arancini or arancine, Sicilian fried rice balls coated with breadcrumbs. Named after the orange colour. Arancina means "little orange".

The rind does not need to be removed and though quite strong in aroma, the paste has a gentle flavour to explore.
10QI 5 Pizza and stringy cheeses
10QI 6 Rinds and other Coatings
Cheeses made from raw milk, may contain Listeria bacteria on the crust.
The rind of these cheeses should not be eaten especially by children, the elderly, or immunocompromised people.
10QI 7 Halumi and other Hot Cheeses
10QI 8 Market Stall Cheese
Passionate about cheese? The Goodman family is. Graham, Jayne and their son Ed have turned their enthusiastic Francophile pursuit into a thriving market stall business. Graham and Jayne moved to the Auvergne in 2007 to enjoy the French way of life and to locate quality regional artisan cheese makers who produce specialist cheeses following often secret family recipes.
They stock their market stalls with a broad range of cheeses from the well known favorites such as Brie and Stilton to the diverse and unusual including the recent TV Chefs favorite ________
Conversant in the extreme, they are more than happy to share their knowledge and take time to discuss the qualities of each cheese. To explain that Morbier has a layer of ash to separate the morning milk from the evening milk or that Fourme d'Ambert is known to the French as 'The Grand Lady with a gentle heart'.
From their local stalls you can buy cheeses by world class producers such as Peppino Occelli. Visit http://www.occelli.it/en/ for indepth information about their product - or ask Ed!
Asked why they stocked continental cheeses rather than locally produced cheese Ed explained that quite simply there was insufficient local cheese available to them to sell. Instead, the family has built up a comprehensive list of artisan suppliers many of whom through business have become family friends.
Ed regularly travels to Paris to the Rungis Food market to see his agent, check out what is newly available and to source items other than cheeses to sell on the weekly markets in Hampshire.
You can meet Ed the Cheese at the Odiham Friday market 8.30 – 3.30 pm or the Goodmans at the Alton, Winchester or Romsey Markets. Visit www.thecheesestall.com for more information.
10QI 9 Rungis – Paris Food Market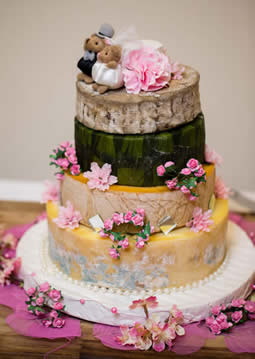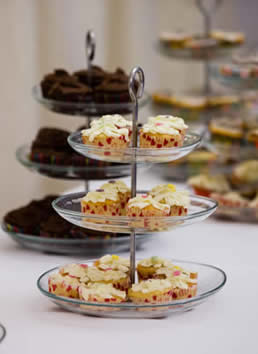 Cheese Wedding Cakes and Hand Crafted Cup Cakes - The Brides Choice
A novel twist on the traditional brilliant white iced architectural teetering on pillars multi storey confection that features in wedding photographs since the invention of photography.
The young brides love affair with cupcakes has forced a rethink on the top table centre piece.
At first thought a Wedding Cheese cake may seem distinctly beige and unappetizing feature piece for such a magnificent occasion. Surprisingly it works very well and as well as looking really attractive also has many benefits. The primary benefit is that it is robust. It is simple to transport, even easier to erect and takes minutes to decorate.
It is not cheap but considerably more economic than a hand crafted conventional cake The Cheese Shed provided the Wedding Cheese cake pictured on the right.
Their website includes a neat little piece of software which allows you to construct your own cake. It produces an image indicating the diameter and height of the cheeses you choose so you can see if there are any glaring errors. They also sell decoration packs which quickly finish the centre piece.
To find out more visit www.thecheeseshed.com or email ian@thecheeseshed.com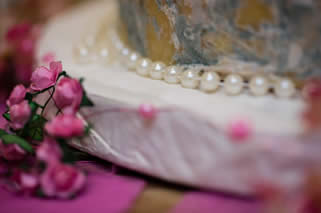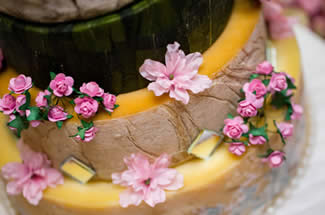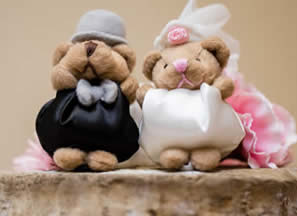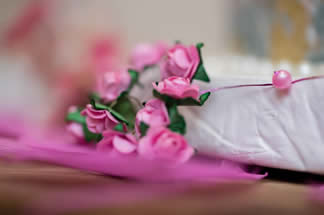 All the Wedding Cheese Cake images are published with the permission of Gomes Photography www.gomesphotography.net
The Cheeses were decorated by Stella Bowyer.
The Brie at the base of the 'cake' maintained its shape despite the weight of the cheeses above.
The dark green nettles covering the Cornish Yarg added both contrast and colour to the cake. The name Yarg is derived simply from the name Gray reversed.
Teddy bear Groom and Bride toys added a novel twist to the more traditional figures.
*Real, paper, artificial or sugar flowers can be used to decorate the cake.
*Only edible real flowers should be used. You should check carefully before using natural flowers and consider guests with allergies.
________________________________________________________________________________
This article is under construction *
________________________________________________________________________________
If you have a comment or would like to submit content
Send an email to

Networking Naturally is not responsible for the content of external sites. Read more....