10QI
10QuiteInteresting
QuestionsFactsFiguresPointsDatesEvents
This site and these pages are currently under construction
Title
IN DRAFT
2015
Page Under Construction. Email bo@networkingnaturally.com if you would like to contribute to the content
Networking Naturally is not responsible for the content of external sites. Read more....
September 2014
10QI Trains
Dear Flynn
I see from Facebook that you have discovered trains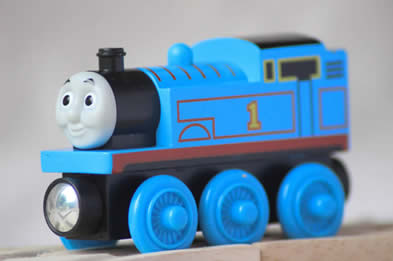 Thomas
the
Tank Engine
Trains are super important and changed the world in 17 - 1800's. They transported people from one place to another very quickly and were a key part of the industrial revolution.
When cars became more popular, a grim man called Dr Beeching axed many of the railway lines in England in 1960's.
However, lots of little boys had grown up to love the trains, railway stations and people who worked there. When they grew up, some of these little boys worked hard to save a few sections of railway lines, the steam engines and carriages.
Your Grandparents Eric and Stella visited England in 2013 and I took them to the Watercress Line.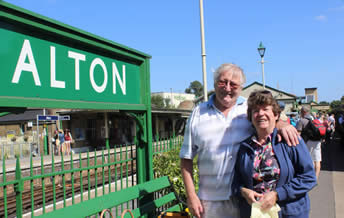 Eric and Stella
This was a special section of railway which runs from the Watercress beds around Arlesford to Alton where it joins the main London line. A watercress bed is a shallow pond with a chalk water stream running through it. Watercress grows easily in these beds. It has a peppery taste, can be used in salads or soups and is very good to eat.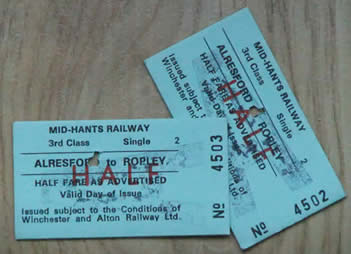 To travel on the steam trains you must buy a ticket. These are Stella and Eric's train tickets. They had a special Half Price ticket because they are retired. While you are a child you too will need a special ticket for children. There is a hole in the middle of each ticket where the Ticket Inspector checked each one.
train tickets
Railway enthusiasts collect old train tickets. Rare tickets are very valuable to a collector.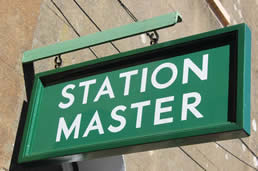 Alton Station has a special platform and the Station Master has his own office to control the train movements.
In Thomas the Tank books he was called The Fat Controller!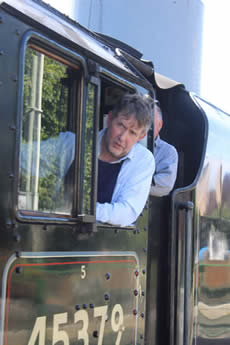 One lucky volunteer gets to drive the steam engine.
It is a very skilled job and he has to be very careful not to go too fast
Train Driver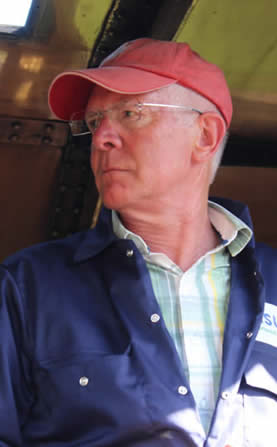 The Engineer watches very carefully to make sure there is not too much pressure in the engine. If the water cools too much there will not be enough steam to move the Train.
Engineer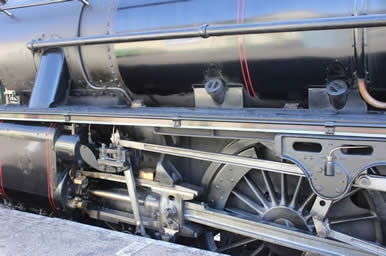 The wheels on a steam locomotive are made from metal and a metal rod called a piston moves the wheels around
wheels and pistons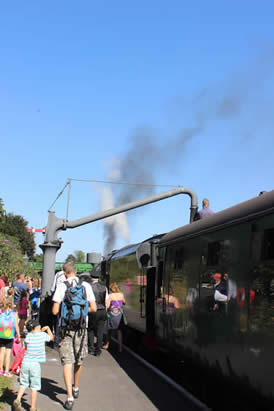 Steam which powers the engine is released through a vent. Smoke from the fire puffs out from the funnel. You can see coal smoke and steam rising from the front of the engine. To replenish the water a flexible hose swings across the platform whooshes water into the tank.
steam and smoke
whooshing water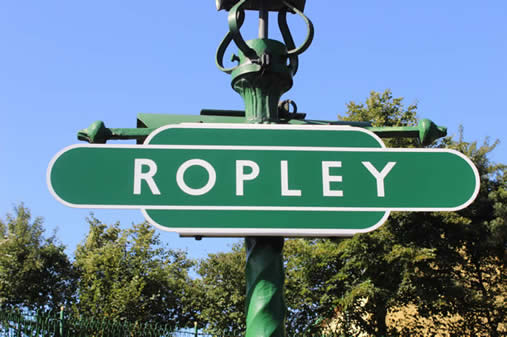 Watercress Line Ropley Station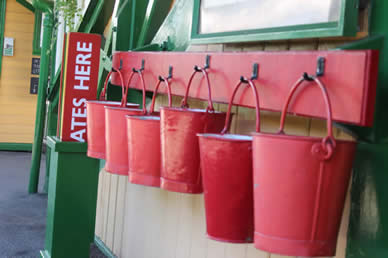 In the summer when it is very dry, the sparks from the engines can cause fires in the fields and hedgerows. There are always red fire buckets at the station just in case!
red fire buckets
Did you know that the Reverend W Awdry, author of Thomas The Tank Engine lived in Odiham? He was the Curate at All Saints Parish Church
Your cousin Craig could read the word marmalade before he could say it! Our favourite book at the time was Paddington Bear by Michael Bond. Paddington Bear was named after the London railway station where he was found having arrived from darkest Peru.
......... to be continued......... Bo x
p.s. I have sent you a Thomas Engine and a puzzle and Eric and Stella's train tickets.
---
August 2014
Dear Flynn
It took me some time to find a pressie to welcome you to this world. In fact I had to go to France before I found inspiration.
On reflection, the first is a Marmite present.
Marmite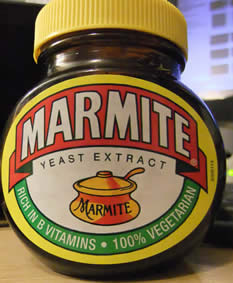 Marmite is the original Vegemite. It is one of those things you either love or not. I hope you like Marmite and do enjoy this french outfit
Je suis l'homme d'une
seule femme....
Maman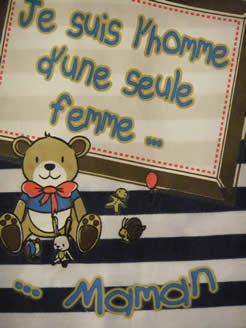 But if not, no worries, the words on the front are funky and provide a link to the second gift - a book. Be glad the next door shop was closed or you could have had two outfits!
We travelled to a town called Vaison La Romaine in Provence. It is a very old town with a mega castle
Castle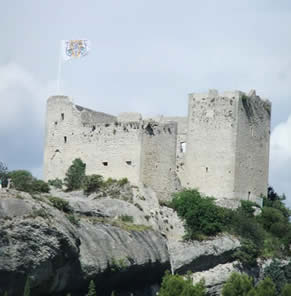 The castle was built and rebuilt over the centuries. It sits on top of a mega rock which makes it easy to defend and very hard to get drinking water to.
In the summer posh Parisians stay in the hotel close to the castle.
The hotel, shops and homes of the Vaisonaise people of old are on the far side of the rock. On the south (ish) side shown in this picture there are no buildings, just a very big
d r o p
The market at Vaison is very famous and sells all sorts of goods - including Marmite Outfits - and lots of soaps
soap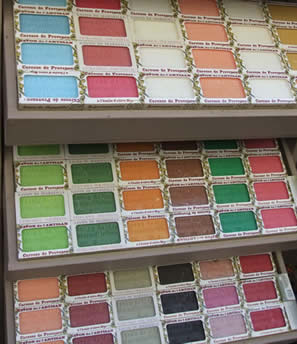 The soaps are scented with flowers, fruits, herbs, things that make them smell of the sea and ever so fresh water streams.
The market also sells lots of foods including fresh fish set out on beds of crushed ice to keep them cool
fish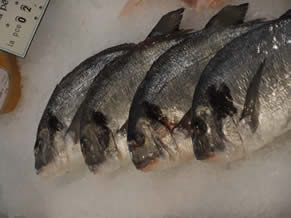 Of course, I liked the bags .....
bags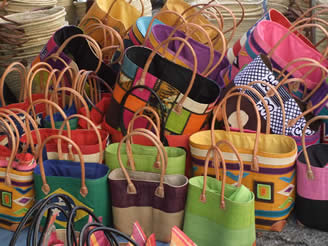 When Eric and Stella visited France in 2013, I brought a bag just like these. It is full of summery colours and brightens up the dullest moment.
The bags came in all colours and shapes like the ones below....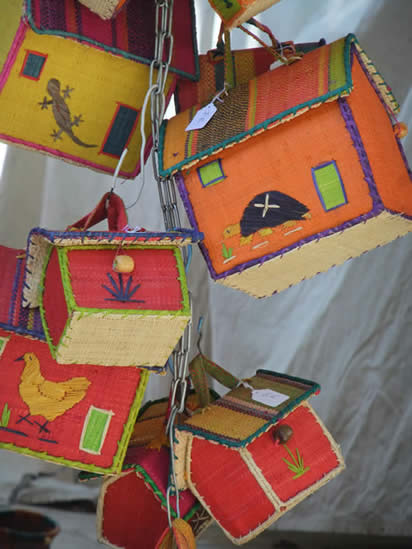 t
You could buy shoes.......
shoes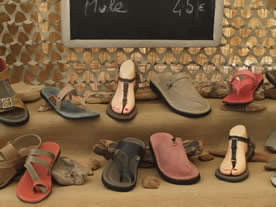 .......Lots of things made from Olive Oil .....
ladybirds soap cicada olive oil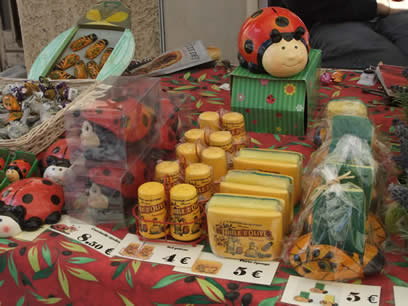 With wishes from your concentric Aunt Bo x
Networking Naturally is not responsible for the content of external sites. Read more....