10QI
Family History Top 10 Research Tips
Tips and Tricks for speeding up the first steps in researching your family Tree
IN DRAFT
May 2014
Page Under Construction. Email bo@networkingnaturally.com if you would like to contribute to the content
Networking Naturally is not responsible for the content of external sites. Read more....
1 Census, Electoral Roll and other public evidence
2 Genealogy
3 Mapping
4 Birth Marriage and Death Index - free BMD
5 Certificates
6 Work Houses
7 Parish Records
8 National Archives
9 Local Authorities
10 Society of Genealogists
1 Census, Electoral Roll and other public evidence
Public records contain a lot of useful information when researching evidence
Census.
As the industrial revolution gathered increasing pace and more and more people migrated into the cities concern grew at the ability of the nation to feed itself. Thomas Malthus was instrumental in initiating the first England and Wales census in 1801. However the information gathered changed and a census of individuals and their occupations was carried out in 1841. As the decades passed the type of information required by Law changed to provide a more detailed picture of the population of England and Wales. Scotland has its own separate census.
BEWARE! The census is a record of the population taken on one day in that decade. It is not a record of where people lived but where they were on that day.
So, for example, if Mr Smith was abroad in the army, he will not be listed as living at number 5 High Street, because he was not resident on the day of the census. Equally, if Miss Jones was staying with her grandmother on the census day the records will show her as being at her grandmothers house but this does not mean that she lived there.
It is important to bear this in mind as the information in the census can cause confusion. Always back up evidence should be sought.
Electoral Rolls.
These are also very useful records. The British Library has full electoral roles from 1947. Before this date records are available online
British Library PDF information on Electoral Registers
It is useful to remember that where lists are by property they will only show males of voting age prior to the granting of the right to vote for qualifying women over the age of 30 in 1918 and for all women in 1928. Anyone under the age of 21 will not be recorded on these records.
In 1969 the age was reduced from 21 to 18 for both men and women.
2 Genealogy
Ancestry UK, Find my Past, Genes Reunited
UKBMD www.ukbmd.org.uk
UKGDL www.ukgdl.org.uk
UKMFM www.ukmfh.org.uk
3 Mapping
Road name changes
http://maps.thehunthouse.com/Streets/Old_to_New_Abolished_London_Street_Names.htm
Railways
The innovation of the railway substantially impacted on the movement of the population
St Pancras Station London
In around 1860 the Midland Railway Company wished to build a new terminus at St Pancras. To do this it would be necessary to construct over part of the burial ground of Old St Pancras Church. The burial ground was already so full that there are stories of human bones sticking out of the ground. In order to continue with the project to use the land as part of the terminus, all the human remains needed to be moved to another burial ground. In around 1865 Thomas Hardy was tasked with organising the removal and re burial of these remains. If you visit the church today, it is sign posted from the new station, you can see the headstones from the former plots stacked together and in the centre grows 'The Hardy Tree'. See images. When work started on the extension to the terminus to accommodate the new Eurostar platforms, a further section of the burial ground had to be excavated and the remains resting there removed.
4 Birth Marriage and Death Index - free BMD
January February March April May June July August September October November December
5 Certificates
6 Work Houses
The following information needs to be cross referenced - do not rely on this at present 6 13
| | | |
| --- | --- | --- |
| 10QI 1 | Workhouses, or Poorhouses as they were called in Scotland started to be constructed circa 1834 during the Victorian era. They were built to house the destitute poor, many of whom had come to the industrialised areas to find work and escape the extreme poverty of countryside life | |
| 10QI 2 | People who were really poor used to sell their urine to tanneries for use in leather manufacturing. Hence the expression 'Piss Poor'. A further expression 'He was so poor he didn't have a pot to piss in' also derives from this time. | |
| 10QI 3 | Charlie Chaplin, his brother and mother entered a Workhouse (?in Lambeth?1000 inmates.). The system adopted by Workhouses was to separate Men, Women and Children on entrance. In some Workhouses families would see each other on a Sunday but this was not always the case and some families never saw each other again | |
| 10QI 4 | Workhouse Howl | |
| 10QI 5 | Master and Matron | |
| 10QI 6 | Poor farms | |
| 10QI 7 | Humiliate and Shame | |
| 10QI 8 | Menial work tasks such as unpicking ship ropes | |
| 10QI 9 | | |
| 10QI 10 | Workhouses were finally closed in 1948. During the 20th Century improvements were made and positive recollections are recounted by those still living today who experienced life in the workhouse. | |
7 Parish Records
8 National Archives
No postits
http://www.british-history.ac.uk
9 Local Authorities
City of Westminster Archives Centre
Archives for London
10 Society of Genealogists
Housed in a building off the junction of Old Street and Clerkenwell Road, 14 Charterhouse Buildings
Goswell Road, London EC1M 7BA, The Society of Genealogists is a must do visit for anyone wishing to research their family history and who has plenty of time to spare. The building is on three floors with computer access to Ancestry, Findmypast and the societies own electronic records. There are lifts for ease of access but the building is old.
You do not have to be a member to visit. You can buy passes for 1, 2, 4 hours or all day passes which gives access to three floors of researching heaven! Run mostly by volunteers, the library contains a wealth of books covering all aspects of history both English and global. The British Empire took our ancestors all over the world and this building has hard and soft copies of millions of records.
Like any library there are strict rules and if in doubt ask.
There are free tours of the library on special days which you can book in advance by phone, letter or email. Places are limited so book early.
They also have lectures and walks covering many aspects relevant to research which are available to non members at a slightly increased price.
Information about all aspects is available at Society of Genealogists
At busy times you will need to be patient if you require assistance. However, at quiet times, the staff and volunteers and exceptionally helpful and take pleasure in assisting in research and how to use the library's resources and indexing systems.
One very important point before you set off.
You must take evidence of identity, a passport or driving licence plus evidence of address, a utility bill or bank statement.
With out this evidence you will not be allowed to enter the library.
Section updated May 2014
http://www.huguenotsociety.org.uk/
The General Register Office (GRO), part of the Identity and Passport Service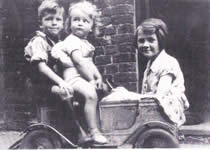 If you have a comment or would like to submit content
Send an email to

bo@networkingnaturally.com
Networking Naturally is not responsible for the content of external sites. Read more....