10Q
Destination Lucca 2018
_____________________________________________________________________________________________
Discovering this Tuscan Gem
10QuiteInteresting
QuestionsFactsFiguresPointsDatesEvents
This site and these pages are currently under construction
Day 1 and 2 - London to Lucca
Every January the same dilemma occurs….. where to go to for two weeks 'holiday' this year.

He has flown the globe and I object to flying so for the past few years we have explored vacances en France en train or par chemin du fer as the old French may say. This year we decided, for a change, to explore Italy.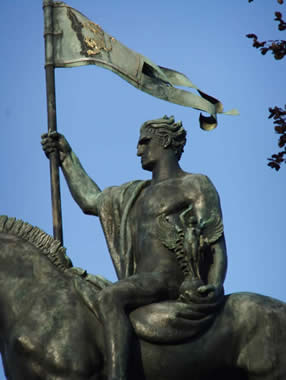 "Patria Vincitrice", created in 1930 by the Lucchese sculptor Alfredo Angeloni.
There are a variety of options for rail travel from UK to Italy, passing through France, Germany, Austria or Switzerland.
Though it is possible to get to Italy in one day, it is more practical to include an overnight Hotel stop……. that is unless you include the sleeper train from Paris to Italy in your itinerary thus making the overnight sleeping experience in a cabin part of the train journey.
We travelled on the overnight sleeper train in 2007 when according to seasoned travellers and journalists the rail experience was much better overall than ten years later with amongst other luxuries such as real china plates and metal cutlery in the dining car.
We have no such comparison to make however because despite having booked in January, during April to June 2018 the SNCF French railway staff imposed a rotational strike pattern and though we were commencing our travel on a non-strike day, the arrival of the train in Italy was a strike day.
Checking two months prior to departure, the 221 was still scheduled to depart on 16 June. However, with less than 48 hours notice by email to those who had booked directly with Thello, they cancelled the 221 from Paris to Milan. We however had not booked directly with Thello, received no email and believing all to be in order had not felt it necessary to check the Thello website day by day for the preceding weeks.
Now we have a respect for the French and their abject stance for what they believe to be right. After all only Champagne made from grapes grown in the Champagne region can carry the name champagne – even if it transpires that what you are drinking is cheap white wine fizzed up with carbon dioxide and capped with a plastic stopper.
Thello had arranged for a 'bus' replacement. Well a bus replacement between Woking and Waterloo is one thing but Paris to Milan – overnight. At sixty something this was not a great option but there was no alternative with 20 minutes until departure. Should you find yourself in a similar situation, a word of advice …. when forced upstairs to the top deck (so the Thello staff can all use the lower deck chairs fully reclined so they can have a sleep in comfort) do not rush to the front seats so you can have a great view of the journey. Our first driver was apparently multi-tasking judging by the way the bus moved from one side of the lane to the inside ridged white line marking.
On the plus side, when the sun came up we were able to watch as the coach – which yes, did have a toilet – journeyed around the mountains and then through the Frejus tunnel to Italy.
Bizarrely, had the coach not made a random detour at Lyon and turned back towards Paris for reasons unknown to any of the passengers, we would have arrived in Milan on time.
However, we were late and there were some very irritated passengers. Top Tip if you are unfortunate enough to arrive in Milan as we did or, as we understand it, if you are delayed as a result of the train line, Thello or otherwise, the staff at the station will do their utmost to assist you with your onward journey.
We fell into the hands of a Milanaise Angel who took us under her capacious wings and ensured we had seats on the next fast train to Florence. In the event, we arrived at Lucca just 10 minutes behind our original schedule – albeit without one dinner with desert and wine and one night's sleep.
---
Destination Lucca 2018 is the first in a series of posts about two silver surfers and their journey to Italy. You can follow the blog by email
Visit https://claudiabowuk.wordpress.com/ From the menu click Blog and scroll to the option to Follow. Enter your email address and 'Bobs Your Uncle!' (you have to be a certain age to know this phrase). The latest posts from this blog will magically appear in your email InBox. You can unsubscribe at any time and it will not cost a penny.
In the meantime, if you climb to the top of the famous Guinigi Tower on a clear blue sky day, this is what you will see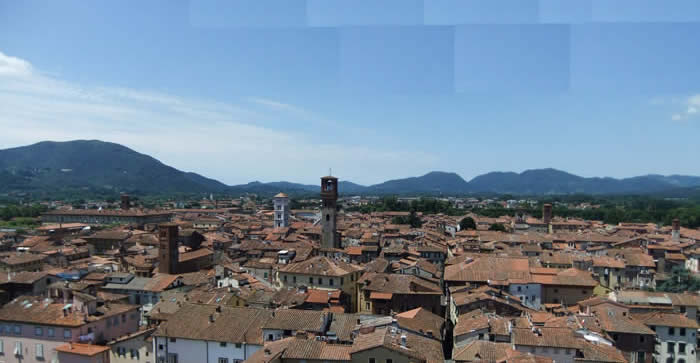 Page Under Construction.
Email bo@networkingnaturally.com if you would like to comment or contribute to the content
Networking Naturally is not responsible for the content of external sites. Read more....
If you have a comment or would like to submit content
Send an email to

bo@networkingnaturally.com
The Text and Images on this page are subject to copyright.
You must contact the owner for permission before you use any items.
The internet is regularly checked for use of these items especially the images which are all hall marked.
Networking Naturally is not responsible for the content of external sites. Read more....