10QI
Bruges
Belgium
far more interesting than you might imagine
Page Under Construction. Email bo@networkingnaturally.com if you would like to contribute to the content
Networking Naturally is not responsible for the content of external sites. Read more....
1
Brugges or Brugge is believed to have been a settlement which developed at the cross roads of two important commercial routes. Its name is thought to have been derived from a Viking word Brugga, being a landing place.
2
Bruges was historically situated on the Belgium coastline with the North Sea and provided a direct shipping link with London, England so was an important commercial hub for trading, particularly in cloth. Over time, the coastal line retreated and Bruge is now approximately 25 k inland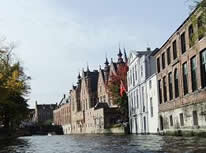 3
Canals were constructed to connect the trading centre with the outside world enabling fully laden ships to sail into the centre and off load their goods. Initially, the canals encircled oldest part of the city (the inner 'egg' - named after its ovoid shape). Later, much larger canals such as the Gent to Oostende canal were constructed to both provide a route further inland for much larger barges and also as a defense for the growing city (outer 'egg').

The silting of canals together with the rise of competing commercial centres such as Gent caused the decline of Bruges. It is in part due to these events that we are today able to enjoy a time capsule of architectural history due to the lack of ongoing development in the area.

Johnny Canal barge on the Gent Oostende Canal via Bruges
4
Windmills.

At the height of its success, Bruges had some 29 Windmills encircling the perimeter and several fortifications at the entrances

With the Gent to Oostende canal to the right, one of the four remaining windmills
5
Architecture

Bruges was at times a fabulously wealthy centre and as a consequence there are some stunning examples of Gothic and Neo Gothic constructions together with fine churches and public buildings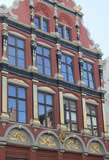 Bruges is renown for the stepped gables to the frontage of many buildings. This style afforded some protection against the spread of fire and also allowed easier access for workmen to reach chimney stacks.
6 Gods Houses and Beguinages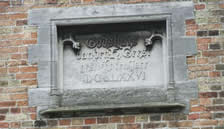 Dating from 14th Century Bruges retains some 46 Godshuizen (Gods Houses). Similar to English Almshouses, they provide a residence for elderly and vulnerable local people. Typically they are a small dwelling alongside others and sometimes within a walled group enclosing a shared courtyard garden.

Bruges also has a fine example of a Beguinage seen here in October 2012.

Originally home to single women who lived a religious lives but who did not take vows.

For more information visit http://www.insightguides.com/destinations/europe/belgium/bruges/highlights
7
Belgian Beer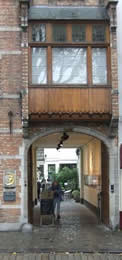 Belguim is famous for its regional and speciality beers.
The Half Moon Brewery has brewed its unique beers in Bruges since 1856 under the ownership of one family. They produce two distinctive peers, Straffe Hendrik and Brugse Zot, Strong Henry and Brugges Fool.

The Brewery is open to the public for tours and serves a daily dish together with, of course, their beers.

The restaurant and courtyard can get busy in the high season but is worth a visit.
The Entrance to the Half Moon Brewery
October 2012
8
Eating in Bruges

The people of Belguim famously have hearty appetites and this is reflected in their signature dish Flemish Stew, beef cooked slowly in a rich beer gravy and served with chips - alledgedly American service men misnamed French Fries having enjoyed the twice fried Belgium favourite.

Situated close to the North Sea coast, fish is a predominant feature of many menu's with the ingredients being sold daily at the VizMarket to the south of the Burg.

As you would expect of a tourist centre, there are restaurants to meet every kind of taste and price.

Chocolates and Treats

Of course, Belgium is famous for its speciality - chocolates and there is no shortage of outlets selling pralines and home made delights in every shape and size. Also, look out for the candy shop south of Onze Lieve Vrouwekerk where you may see candy being pulled and formed into lollipops and assorted sweets.

Waffles, with or without chocolate, pastries, merangues and pancakes with morning coffee or afternoon tea make a pleasant interlude between easy sight seeing ambles on the cobbled pathways.
9
Staying in Bruges

Bruges offers a extensive range of accommodation for visitors from the luxurious De Tuilerieen www.hoteltuilerieen.com to hostles such as Charley Rockets http://www.charlierockets.com/ a characteristic venue worth a peep.

Travelling on a Eurostar package http://www.eurostar.com/UK/uk/leisure/eurostar_deals/bruges.jsp, the Anselmus Hotel http://www.anselmus.be offered comfortable accommodation just a few minutes walk from the centre of Bruges.
10
Tourist Information

Tourist Information is housed within the relatively uber modern Concertebouw building situated adjacent to t'Zand

Regular performances http://www.concertgebouw.be/; within the new concert hall adds additional attraction to this visitor based destination.

Facing towards Parking Zand, you may be interested to know that this is the site of a former railway station. A tunnel takes the ring road under the open cobble stone square on which a market is held on Saturdays.

There are a multitude of museums within Bruges and a visit to the Tourist Information office will provide all the details including how to purchase tickets which allow access to all participating museums over a three day period of your stay.

Yellow CityTour buses start a 50 minute tour on the hour throughout the year. The buses follow a zigzag route which passes 30 + of the significant points within the old part of the city. With commentary in seven languages the tour costs (2012) €14.50 adult €8.50 child.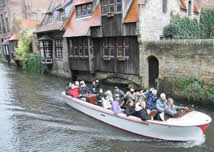 Boat trips operate from five points along the canals. Lasting 30 minutes the provide an alternative perspective from which to see the city. The information given in multiple languages - English, French, German and Dutch was limited given the number of translations. The five companies operating these tour boats alone have licence to operate craft along the canals. Cost approx (2012) €7 - 8 per adult. No private boating is permitted on the old city canals.
There are guided walking tours which offer more detailed information.
Insight Guides produce a pocket size Bruges Smart Guide which provides a useful insight for visitors
If you have a comment or would like to submit content
Send an email to

bo@networkingnaturally.com
Networking Naturally is not responsible for the content of external sites. Read more....